J3 Music Studios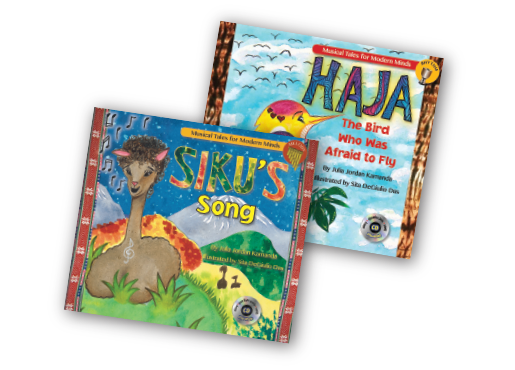 Autographed copy!
BOOKS AND MUSIC
West Africa's vibrant colors and sounds come alive in this interactive musical storybook depicting the touching tale of a small bird who must face her biggest fear. 4 to 7 year olds will love adding the sounds of Haja's heartbeat, wind and the rain on the mango leaves. A companion CD includes a djembe drum jam track, an audiobook of the story, and the instant classic song "Fly Haja Fly," performed by author Julia Jordan Kamanda and students from J3Music Studios.
Climb the mountains of Peru and enter Siku's world, a place where melodies drift through the hills and valleys. Sing along with Siku, a young alpaca who asserts her independence by singing and humming the songs in her heart. This storybook helps children explore the musical element of "melody". A companion CD includes a pan flute party jam track, an audiobook of the story, and easy-to-sing "In My Heart (There Is a Song)," written and performed by Julia Jordan Kamanda and her students.
Urban Legacy, Julia's debut independent album is available at online retail stores including:
iTunes, Amazon, CDBaby, and Spotify.
Julia has been performing and recording original music since 2005. Her credits include involvement on Grammy-nominated songs, independent albums, as well as solo and band performances in multiple countries around the world.
Special Projects
SEED CREATIVE ARTS INITIATIVE
The SEED Creative Arts Initiative is a literacy-based arts program for young women in Kabala, Sierra Leone that encourages self-expression and self-empowerment through writing and the arts. It was launched in 2010 by Julia and her (then) fiance, Ali Kamanda.

To learn more about the program and how you can be involved, click here.
MUSIC FOR FILM
SALAY is a coming-of-age story about a young woman struggling with cultural traditions and modernity in her small Sierra Leonean village. Winner of Best Director Narrative at Reel Sisters of the Diaspora Film Festival, Best African Film at the San Francisco Black Film Festival, Award of Excellence for Social Justice in the Best Shorts Competition.

For more information, visit www.salaythefilm.com
Keep Current with What's New with the Music Mommy!