With the holidays coming up, I've decided to do a gift guide for parents! I've been thinking about this for years and wanted to be sure the gifts I recommend are high-quality, produce real sounds (not tinny "toy-like" sounds), and are reasonably priced.
Here are some of the musical instruments I've found during my research, and experience teaching music with different ages for many years.
For Kids 5 and Under:
At this age, exploring and experimenting is where all the learning happens. The instruments and musical items listed below encourage exactly that. I hate the music toys that sound all tinny and have no real musicality to them. These produce real sounds for a toddler or preschooler to begin to discern true musical sounds, and explore cause and effect with these sounds.

I love this little piano. Its sound is a bit tinny, I will admit. But what I love about it is that the notes actually sound like a scale when you play them from one end to the other, and its color coded so if you want to use the accompanying song book, you can. Most babies and toddlers will just bang on it but that's part of the fun. You will notice as your child gets older that she starts to play it note by note, sometimes singing along with herself.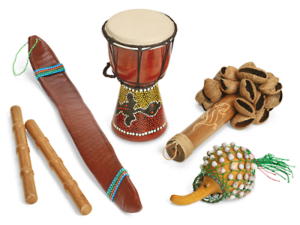 We don't have this exact set at home, but we have most of these instruments and have created a set of our own. What I love about this one is that it's made out of natural materials and includes instruments that produce sounds from nature. No yucky plastic here! Plus, I trust Lakeshore Learning. They put thought into every item they sell and I've always received high-quality learning toys from them. Use this set and have a family jam!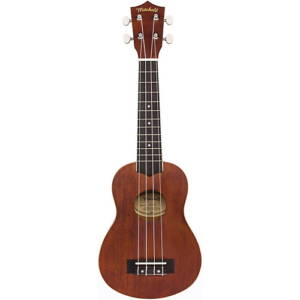 This is a real instrument. It's super inexpensive (less than the cost of most new video games), and pretty durable for the cost. At this age, like I said, most kids aren't really "learning" to play these instruments. They are mostly experimenting with sounds. This is a good size for the littlest musicians in your family because soprano ukes are smallest. You can always get a uke of slightly better quality, but for toddlers and preschoolers this is a good way to go. If your child is on the older end of this age range you can even include Alfred's Kids' Ukulele Method book and your child can learn to play basic songs like Three Blind Mice and London Bridge. But if you want to do that… remember to tune it every time!!
Books with musical themes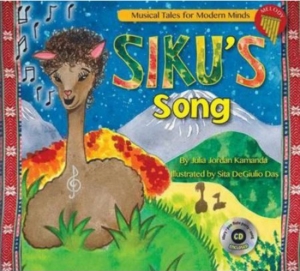 This category is pretty broad. Two books that I will highly recommend are Haja The Bird Who Was Afraid to Fly and Siku's Song. I'm a bit biased because they are my own books, but truth be told, there's not a lot like these stories. With beautiful illustrations, CDs with multicultural music, and life lessons about believing in yourself and expressing yourself, these stories will make a wonderful addition to your child's library. Readers are encouraged to sing and drum along with the characters, introducing musical concepts in an engaging and exploratory way. Here is a list I found on Goodreads of other popular musical storybooks: https://www.goodreads.com/shelf/show/childrens-music
I hope you found something you love for your child, niece, nephew or grandchild! Are the children in your life a bit older? Stay connected because tomorrow I will post musical gifts for kids age 5-10.
Do you already have any of these items? Have any suggestions I didn't mention here? Leave me a comment! I always write back 🙂